iOS
Notification Settings
Please follow the instructions from the video to receive notifications on your iOS device.
Notification Settings on iOS
Android
Notification Settings
Please follow the instructions from the video if you have problems to receive notifications on your Android device.
Android 13 - restricted Notifications
How to resolve sync problems
Most sync problems can easily be solved by turning BLE off and on again on your smartphone. If this does not work for any reason, please follow this process:

1. Delete the BLE connection in the Watch (Watch Settings > BLE> OK).
2. Remove Watch in the app
3. Delete the Watch in the iPhone/Android BLE settings
4. Add the Watch again in the Bugatti app
Change the watch strap
Please watch the video in order to learn how to change a watch strap.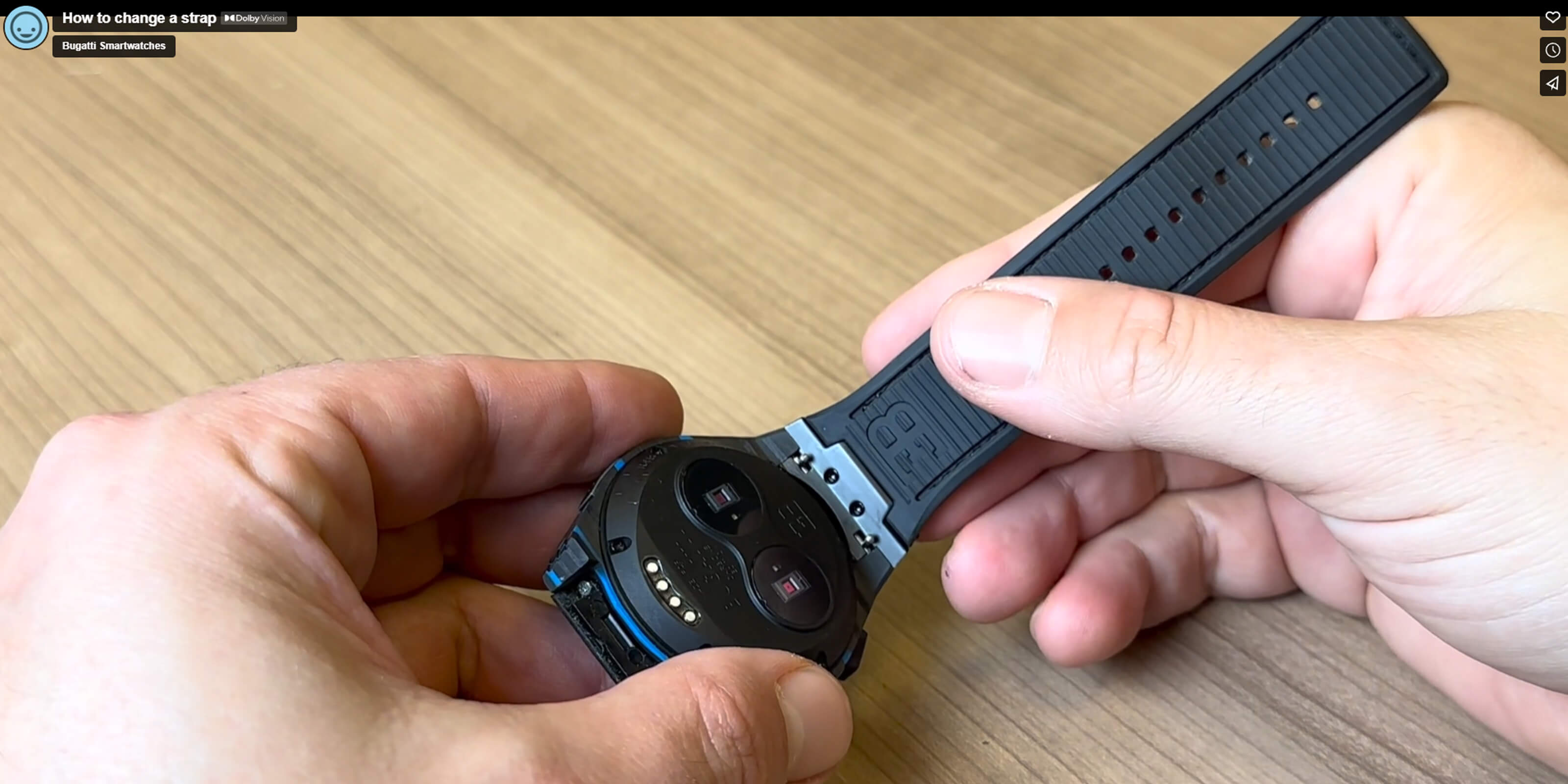 How to attach a watch strap
Perform a reset
To perform a reset, you have to keep the upper button pressed for 10 seconds.
Clean contact points
To clean the contact points, please moisten a clean microfibre or cotton cloth and gently clean the affected areas.
How to clean the contacts
Battery related questions
Your battery will last up to 10 days (Bugatti Ceramique Edition One)/12 days (Bugatti Carbone Limited Edition. This, of course, depends on your usage. Please find the battery table below.

Your watch can only be connected to one device (smartphone, tablet). If you connect a second device, it will constantly try to send data to the watch. However, the watch must constantly reject these requests and thus consumes a lot of power. Please delete your watch from the BLE connection menu of your operating system (Android, iOS) on one of the two devices.
display on by button click
Watch does not charge
If your watch does not charge, please check first if your charger is plugged-in correctly.
If it is, please check if the green LED on your charger is lit.
If both apply, but your watch does not show any signs of charging, please clean the contacts on your watch and on your charger with a toothbrush and water or cleaning cloths soaked in isopropanol. Do not use abrasive cleaning agents. Do not use WC or bathroom cleaners.
How to receive the best heart rate measurement
Fit is an important factor. Here are a few general tips for getting the most accurate data possible:
Wear the watch about one finger length above your wrist bone.
Make sure there's good contact between the sensor array and your skin.
Tighten the strap during exercise. You may also want to wear the device higher on the wrist. For exercises we suggest to wear the silicone strap.
Wipe the sensor array clean whenever it gets dirty